.
Structure
.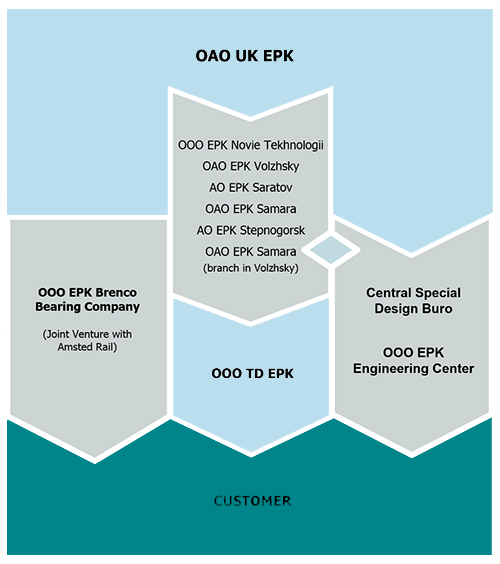 OOO EPK NOVIE TEKHNOLOGII
OOO EPK Novie Technologii was found in 2014 on the basis of OAO EPK Moscow. The main specialisation is large-sized roller bearings. Thanks to carried out reconstruction and in-depth modernisation of the main funds of the enterprise OOO EPK Novie Tekhnologii improved its efficiency and requirements to the quality of bearing products.
---
OAO EPK VOLZHSKY
It was founded in 1961. At the stage of AUTOVAZ designing, Volzhsky Bearing Plant was considered as a part of the car assembly global production chain in Togliatti. OAO VPZ redirected to its key customers.
The plant produces taper straight roller bearings both for motor-car engineering industry and for other engineering sectors:
metal industry;

machine tool industry;

rail vehicles;

agricultural vehicles
---
AO EPK STEPNOGORSK
It was founded in 1976. The core business area of the plant is development and production of cylindrical roller bearings for rail vehicles. In 2011 the plant produced a new modification of a double-row spheric roller bearing of 53000 series; this modification is identical in design with the models of leading European manufacturers.
---
OAO EPK SAMARA
It was founded in 1941. Its production is used for:
aircraft engines;

missile reducing gear boxes;

rocket and missile engineering;

ship building;

machine tool industry;

motor-car industry;

instrument engineering
The plant is a customer-oriented enterprise (list of its customers includes TsSKB-Progress, Samara; SNTK im. Kuznetsova, Samara; Krasny Oktyabr, St,-Petersburg; Aviadvigatel, Perm; Ufimskoe motostroitelnoe proizvodstvennoe ob'edineniye, Ufa; Kazansky vertoletny zavod, Kazan; Motor Sich, Zaporozhia; Salut, Moscow, and many others). The plant pays great attention to improvement of engineering capabilities; it has been constantly upgrading its production technology and implementing equipment which meets the international standards.
---
AO EPK SARATOV
It was founded in 1941. Sales areas:
automotive vehicles;

railway vehicles;

aircraft industry;

ship building;

nuclear power industry.
---
LLC "EPK BRENCO BEARING COMPANY"
A joint venture created in partnership with American company Amsted Rail in 2008. "EPK Brenco" is oriented on production of Tapered roller bearing units (TBU).
---
CENTRAL SPECIAL ENGINEERING DEPARTMENT
Main duties are:
research and development (R&D) with a focus on increase of bearings resources;

implementing of new materials, standards and certifications of bearings
---
EPK ENGINEERING CENTRE
The openning of the Engineering centre was in 2005. Its main duty is design of new types of bearings and analogs of import products. Today EPK EC presents Russia's interests in International Organisation for Standardization, ISO.
---
OOO TD EPK (OOO Torgovij Dom EPK)
In 2001 TD EPK was founded – it is a service & sales part of corporation which realises sales of all types of bearings and other components that are produced by EPK.
It also provides post-sales services that help significantly increase the service life of the products. Technical service specialists consult and provide technical assistance on selection, use and maintenance of bearings.
---
Import substitution programme of high precision bearings